"…but grow in the grace and knowledge of our Lord and Savior Jesus Christ…" 2 Peter 3:18
Looking to connect with other Christians for fellowship and bible study? No problem, we have a group for you!
Noelridge Christian Church offers a variety of groups for all ages as a way to regularly connect with fellow Christians for Bible study, prayer and fun social gatherings. These groups provide a safe and caring way to get to know one another better and grow in our faith journeys. We invite you to come and check out any of the groups listed below. We think you'll discover we do fellowship really well at Noelridge!
Bible Study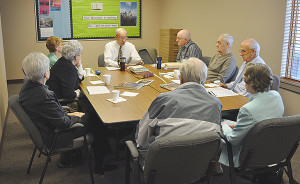 Studying God's word to learn how to live in a Christ-like manner is offered in a number of Bible study opportunities. Several studies are offered during adult Sunday School classes on Sunday mornings. In addition, Rev. Stew Royce leads special Bible studies throughout the year, and Noelridge offers church-wide studies focused on such topics as evangelism for at-home or at-church adult groups.
Chancel Choir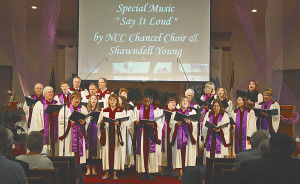 Our Chancel Choir is a group of dedicated men and women ranging in ages 13 to 75. While the ages may vary, all come together with a single purpose of praising and worshipping God with their voices. The choir sings during worship service twice a month, and rehearses every Wednesday from 6:30 – 7:45 p.m. Chancel Choir is a great way to connect with others at Noelridge who care about one another in Christian love. No audition is necessary to join the choir.
Praise Team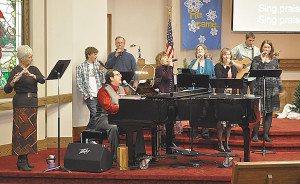 Our Praise Team consists of singers and musicians who present a repertoire of praise music drawn from a contemporary genre of Christian music. Musicians include pianists, guitar players and a percussionist. The praise team leads the music each Sunday during worship, and rehearses from 7:45 – 8:45 p.m. on Wednesday. Membership is by invitation from the music director as musical spots became open.
Women's Prayer Group
Women of all ages are welcome to join in this hour of devotion, sharing and prayer on Thursday mornings. Come with a desire to listen to God, as well as present concerns and praises, and leave spiritually refreshed. The prayer group meets at 10:30 in the church library.
Noelridge Fellowship Ladies (NFL)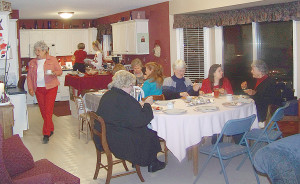 Fun is always included in this group's activities whether they're doing a bible lesson, dining out or hosting a special church event. This group meets the second Tuesday of the month at 5:30 p.m. NFL is a wonderful way to meet and connect with Christian women of all ages.
Wednesday Night Food Court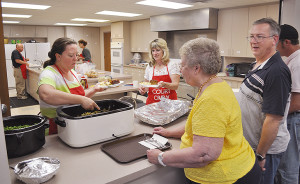 Take a night off from cooking and enjoy a delicious, homemade dinner and salad bar, served before our Wednesday evening activities from 5:15 – 6:00 p.m.  Cost is $5 for adults, $3 for middle school through high school students, and $2 for children fifth grade and younger. First-time visitors to food court receive their meal for free. No reservations are needed. Just come and enjoy the food and fellowship.
Lunch Bunch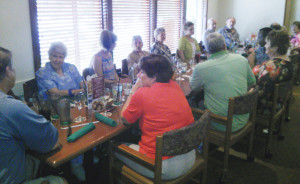 Another opportunity to skip cooking and connect with friends – this time over Sunday lunch. Noelridge members and visitors are welcome to join this dutch treat outing which leaves the church at 11:30 to gather at a different local restaurant each Sunday. Ask for Donna Lala Sunday morning to let her  know if you wish to join the lunch bunch.
Retiree Luncheons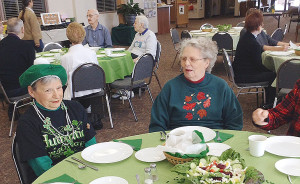 Retirees and people of retirement age get together once a quarter for fun, fellowship and good food at this luncheon hosted by the parish nurse team. Gather with new friends, or rekindle and strengthen old friendships. The luncheons are held in the Noelridge fellowship hall, and transportation is available for those who need it.
Golden Games
Retirees also gather the second and fourth Tuesdays of the month for an afternoon of cards, board games and social time. Golden games run from 1 – 3 p.m. in the fellowship hall.
Sports Teams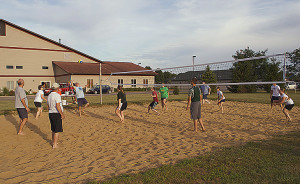 If you like to "play ball," there just might be a team for you at Noelridge. From softball to volleyball, Noelridge teams enjoy the exercise and fellowship that participating in league games provide.
Dinners For 6 + 2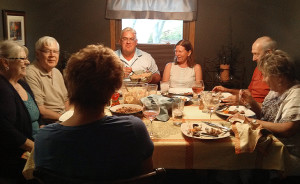 For those who like fellowship and good food, Dinners for 6 + 2 offer both. A group of six Noelridge persons are paired with two new persons to our church community who are our guests for three pot luck dinners. The gatherings are a wonderful opportunity for everyone to get to know each other better over a delicious meal in a casual setting.