"…but through love serve one another." -Galatians 5:13
Our community ministries reach out to share God's love and make a difference in the lives of others seeking God's help.
Our membership is dedicated to spreading God's love through numerous community, national and international outreach programs.
Mothers of Preschoolers (MOPS)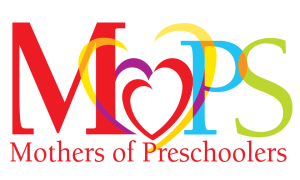 Our MOPS ministry is part of a non-denominational, international organization that exists to encourage, equip and develop mothers of preschoolers to reach their potential as women, mothers and leaders in the name of Jesus Christ. Meetings are held the first and third Tuesdays mornings of the month from September through May. All women must register in advance. Participation is limited only in relationship to the numbers of accompanying preschoolers needing childcare.
Preschoolers are cared for by "shepherds" in age-specific groups while the mothers meet. Shepherds are always needed to rock babies, play with toddlers and lead craft activities for the older preschoolers. All shepherds must go through a background check and training.
For registration information or details about becoming a shepherd call our church office at 319.393.9532.
Trunk or Treat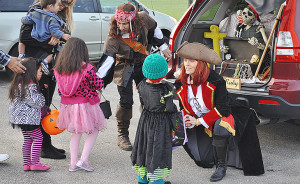 Noelridge plays host to a large number of children from around the community during our Trunk or Treat event held the Saturday afternoon before Halloween. Youngsters and their families are invited to wear their costumes and trick or treat down the line of decorated car trunks in our parking lot. But that's not all. We also provide games for the little ones, in addition to offering families a warm cup of hot chocolate and cookies.
Four Oaks Christmas Party
Sharing Jesus' love with children at Christmas time is what this event is all about. Noelridge members provide a warm sandwich meal and play games with young children at Four Oaks in Cedar Rapids during this annual holiday party.
Food Baskets
Our Mission Team works with the local HACAP to help provide a happy holiday to families in need with the gift of food baskets. Food items, paper products and household items are donated by our membership and church attendees. The Mission Team packs these items, along with a Bible, and delivers the baskets to designated families at Easter, Thanksgiving and Christmas.
Rummage Sale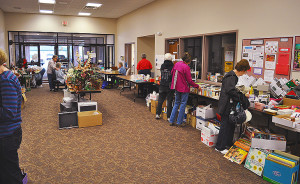 This successful fundraiser is held twice a year. Members and church-goers donate their unwanted gently-used clothes, household items and toys for the sale. Proceeds go to support the church and its various mission projects.
Mission Trips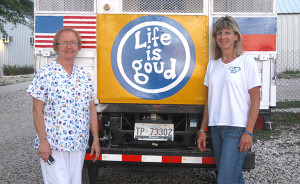 Noelridge also seeks to serve others outside of our local community. Our Mission Team organizes youth, adult and multi-generational trips to provide Christ-focused support to those in need across the country and beyond. These mission teams have traveled to Maine, Illinois, Arkansas and Indian reservations in South Dakota and Minnesota, as well as to Mexico, Haiti, Central America and Africa. Team members have offered their expertise and skills in home repair, disaster recovery, health care and childcare.