"Behold, children are a gift of the Lord." -Psalm 127:3a"
Our nursery is a ministry to parents, guardians and children.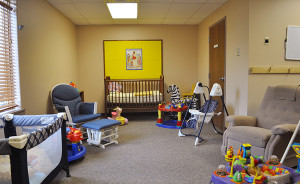 It provides a safe and loving environment for infants to Kindergarteners during worship service, from 9:30-10:30, and Sunday School, from 10:45- 11:30. Our caregivers interact with the little ones by reading them Bible stories, playing with them, doing crafts and singing songs about our loving Savior.
A cry room is also available during the worship hour. Located behind the sanctuary, parents and guardians can listen to the service while attending to little ones.