"Jesus answered and said to them, 'You are mistaken, not knowing the Scriptures nor the power of God.'" -Matthew 22:29
Adult Sunday School classes provide guidance in a challenging world.
Adult classes are held both before and after our 9:30 a.m. worship service. From studies of the Bible to topical studies – all come with lessons that can be applied to the daily challenges of living Godly lives in an imperfect world.
Bible Study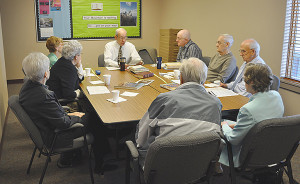 Studying God's word to learn how to live in a Christ-like manner is offered in a number of additional bible study opportunities. Several studies are offered during adult Sunday School classes on Sunday mornings. In addition, Rev. Stew Royce leads special Bible studies throughout the year, and Noelridge offers church-wide studies focused on such topics as evangelism for at-home or at-church adult groups.